about us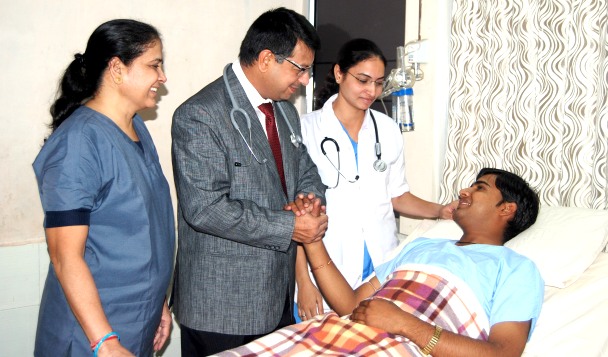 Alka Multi Specialty Hospital is a 75 bedded, ISO 9001:2008 certified hi-tech multi specialty hospital, offering qualitative medical services in the fields of obstetrics and Gynecology, Neonatology, Medicine, General Surgery, Ophthalmology, Burns and Plastic Surgery, Urology, Cancer Surgery, Paediatric Surgery, Haematology and Medical Oncology, Gastroenterology, ENT, Orthopedics, and Dermatology.
Alka Multi Specialty Hospital is located in Kheralu, Dt Mehasana, about 120 kms north to Ahmedabad, in remote and rural area of northern Gujarat of India. The Hospital drains mainly underprivileged, economically deprived, tribal and Below Poverty Line (BPL) families. Alka Multi Specialty Hospital has a community oriented charitable ideology to provide the qualitative and comprehensive medical care at affordable cost. It was established in Dec 1994, as 4 bedded primitive private nursing home offering medical services in the field of obstetrics and gynecology . For last 18 years, it has established its vision to provide all kinds of medical services, and Emergency Obstetric Services (EOS), in specific. More than 40000 deliveries have been performed so far, with more than 3000 deliveries conducted in a year. In spite of the fact that the hospital deals with all kinds of emergencies and drains the poor and underprivileged population, there has been not a single maternal mortality in the hospital for last 14500 consecutive deliveries so far. The Neonatal Mortality Rate has been below 20 for last four years. The qualified, dedicated, highly skilled and experienced medical and paramedical professional team and its consistent quality team work has made this dream come true.
Alka Hospital was reformed and has taken a shape of Alka Multi Specialty Hospital since Sept 2011. The scopes of medical services were expanded in terms of the infrastructure and human resources. Today it serves the community with nearly all the specialties and Super specialties in the tune of hi-tech medical facilities available in the metro cities like Ahmedabad. The consultants from cities like Ahmedabad, Mehsana and Visnagar regularly offer advanced medical management to the patients at their doorstep.
The Alka Multi Specialty Hospital is observing a very fast growth curve, thanks to the trust of the people of the community and specifically to those super consultants who run all the way from far cities to a very small town.